Capitalism:
Tinkerbell speaks, she gets a treat. Bishop gives paw, he gets a treat. Everybody wags.
Socialism:
Bishop chews his bone for hours before the marrow (the "best part," or so I am led to believe) is exposed. Tinkerbell begs to go out. I get up to open the door and Bishop of course, follows his leader, leaving behind his bone. Left unguarded, Bishop's bone becomes Tinkerbell's, as she doubles back to take advantage of the fruits of his labor. Tinkerbell wags.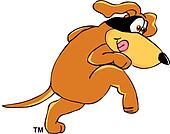 Communism: Tinkerbell and Bishop get treats. Everybody wags. They don't do tricks; they don't behave. Eventually they learn they need to do little else but exist, in order to get a handout. Tinkerbell and Bishop feel unfulfilled and underutilized. They become bored; their minds turn to mush. They pace, they bite, they go for a ride. NOBODY wags!